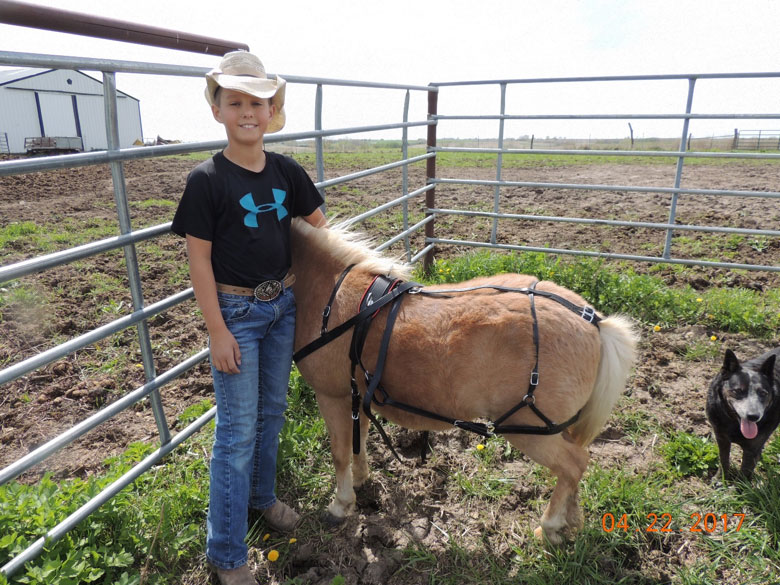 Matt loves miniature ponies. He dreams of one day owning hundreds of buckskin ponies and using them on his ranch with his best bud Cody.
Matt could probably tell you every farm within a 50-mile radius that has ponies. And that is how he refers to people's places. He'll say, "You know that guy who has two bay ponies?" And I'll say, "Um…. not really. Where is that?" And he'll say, "You know, by that one place with the big buckskin pony." And I'll say, "Hmm. I'm afraid I don't know where that is." He'll look at me. Blink a couple times. And wonder how in the world his mother can travel the same roads and have no clue where these ponies live.

So when Joe and Heather let Matt have Twinkie a couple years ago (just to train and them give back) he was in love. He spends hours with her. It is what his day revolves around. And he recently talked us into purchasing a pony harness so he could hitch her to a cart and drive her.

And he talked his sweet sister into helping him. Now we know nothing about hitching up a harness. Although when I was growing up, Grandpa had a team of mules that he would drive, so I was around it a little. But not once did I pay attention to how it all went together. I just got in the wagon and hung on because it was usually a wild ride. Matt would have loved hanging out with Grandpa.
So Matt has been busy searching online to learn how to hitch a harness. (What did we do before the internet?!) And this weekend, when his harness arrived, he put the harness on Twinkie and was on cloud nine. Now he'll be the first to admit that he doesn't know if he is doing everything correctly, but he's sure going to try and boy is he having a good time.
I'll have to let you know how the whole hooking her up to an actual cart goes. Hopefully we don't acquire any broken bones from this whole adventure!
I am really looking forward to a ride in the cart myself.
Have a great day!